Research Paper, Title "Virtual Private Network: A Study of its Various Aspects", presented by NIC MP Officers in IEEE International Conference (ICICAT- 2023)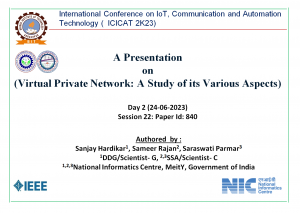 A paper title "Virtual Private Network: A Study of its Various Aspects" was prepared and presented by Shri Sanjay Hardikar DDG, Shri Sameer Rajan Dy. Director (IT) & Smt. Saraswati Parmar Dy. Director (IT), National Informatics Centre (NIC), Madhya Pradesh in IEEE "International Conference on IoT, Communication and Automation Technology (ICICAT-2023)" jointly organized by Department of Computer Science & Engineering, Buddha Institute of Technology, GIDA, Uttar Pradesh & Rajkiya Engineering College, Sonbhadra (U.P.), India during 23-24 June 2023.
This conference provides an excellent platform for the researchers to present their research work, and is known as the UP-section's conference. IEEE UP Section technically sponsors the conference. The conference has multiple tracks covering almost all area of Electrical, Computer, Mechanical, and Electronics & Communication Engineering. The objective was to disseminate research findings, share knowledge, and engage in scholarly discussions with a wider academic community.
By presenting a paper at such platforms/conferences, the aim is to promote and communicate our work to a diverse audience of experts and peers within the field. Such platforms allow us to showcase the methodologies, key findings and conclusions. It also offers an opportunity to receive valuable feedback, suggestions, and critique from the audience, fostering collaboration and the exchange of ideas.
The paper discusses about the VPN (Virtual Private Network) which is a technology that allows remote access to the resources by establishing a secure connection over the public network. It extends the private network and provides a secure option for maintaining confidentiality, integrity and authenticity of data and anonymity of the user. The paper is to comprehensively explore the multifaceted aspects of Virtual Private Networks (VPNs). It delves into the security mechanisms used to safeguard data transmission, emphasizing the importance of privacy and anonymity. Additionally, the paper discussed the VPN's outreach in Government offices to transform the modus operandi regarding the advancement of the digital operations, besides, the potential limitations also highlighted.
By presenting this work in the conference, the team members' intent is to contribute valuable insights, foster knowledge exchange, and promote advancements in VPN technology.
Shri Vijay Kumar Vishwakarma, DDG & State Informatics Officer, NIC MP provided encouragement and continuous support for taking up this endeavour. The team members of IDC, Web & Cloud Services Division, NIC, MP also extended all the necessary support. The team is thankful to SIO MP for giving this opportunity.
The IEEE ICICAT-2023 conference was attended by various dignitaries from the vast field of emerging technologies and innovative solutions. The paper presented on 24th June 2023 will be made available on IEEE Xplore soon.