NIC-FORMS with TejasVI : Hassle-free, quick no coding data collection and immense visualization for better decision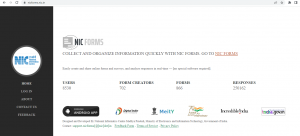 National informatics centre has been into the business of providing digital solutions for data collection, analytics and visualization to various Ministries/department/ Offices for a long time. Generic software solutions for easy data collection in organized formats with proper validations and visualization of this data will prove to be a very powerful tool for government organizations in quick and effective decision making.
NIC forms and TejasVI are the platforms where data collection and visualization can be done without any programming expertise.
NIC forms application is a utility product conceptualized to collect data in organized digital formats, generate and share analytics to individuals for decision making. It allows users to create online forms as easily as creating a document with user friendly graphical user interface and various for management controls without writing any code.
Data collection is a very crucial part for any government for analytics and making decisions effectively and quickly. Data collection normally involves various stakeholders, individuals, multiple institutions or multiple organizations located geographically away to come together and collaborate to make meaningful datasets for decision making.