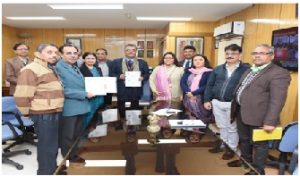 In order to address and streamline the issues related to road maintenance, MoRD has planned for national rollout/ implementation of eMARG (electronic Maintenance of Rural Roads under PMGSY) and entrusted National Informatics Centre (NIC) for its customization and rollout.
eMARG is an Enterprise e-Governance solution to aid and assist the Govt. officials, Civil Contractors, SQC, SQM, Banks and general public. Its end-to-end solution which provides restricted role-based access via internet. eMARG is re-orientation from discretion-based system to a uniform standardized transparent process oriented system. It is a fusion of innovative technologies like GIS, Cryptography, Open Source, Remote Sensing and 3M(Mobile, Messaging & Mail). NIC Madhya Pradesh has developed this solution for the state and shall take it further for rollout at the national-level.
Memorandum of Understanding (MoU) for eMARG was signed between NRIDA, MoRD, GoI, NIC & NICSI on 27th December 2018 in New Delhi. Shri Amarjeet Sinha, Secretary, DoRD, MoRD, GoI, Ms Neeta Verma, Director General NIC, Ms Alka Upadhyaya, Director General NRIDA & Joint Secretary MoRD, Shri Manoj Mishra, Managing Director, NICSI were also present during the signing ceremony held at Krishi Bhawan, New Delhi.