Inauguration of eOffice in Collectorate Ashoknagar (M.P.)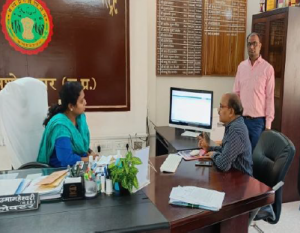 Under the Digital India campaign, NIC has taken up the initiative of improving the inter-government and intra-government functioning by the way of implementing of eOffice in the District Collectorate and other government departments in the district. The state Government has included eOffice implementation in its "Aatmnirbhar" roadmap.
The eOffice Product of NIC aims to achieve a simplified, responsive, effective, unified and transparent way of working in all the government offices. NIC Ashoknagar has implemented eOffice in District Collectorate and other departments too are under process of implementation.
In Collectorate office Ashoknagar (M.P.), eOffice is inaugurated by Ms. Umamaheswari R, Collector & District Magistrate Ashoknagar on 09/11/2021 in the presence of other district officials. In the Go-Live event, the Collector sent a e file to Commissioner Office Gwalior through eOffice and luanched the eOffice in District Collectorate Ashoknagar.