Farewell of Shri Amar Kumar Sinha, SIO Madhya Pradesh. Shri Vijay Kumar Vishwakarma, DDG joins as new SIO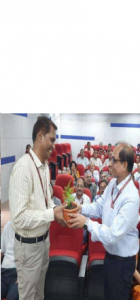 The officers and staff of NIC MP bid heartfelt farewell to the out going SIO, Shri Amar Kumar Sinha who retired from the service on superannuation on 31st October 2022 in a function oraganised at the state center Bhopal. They also bid adieu to their senior collegue Shri Rajiv Agrawal, Scientist 'F' , who opted for VRS. He attended the ceremony on VC from Gwalior.
NIC MP extended a warm welcome to Shri Vijay Kumar Vishwakarma,DDG who joined as new State Informatics Officer of NIC Madhya Pradesh. He took charge from Shri Amar Kumar Sinha. The District Officers participated in
the ceremony over Video conferencing. Here are some glimpses of the occasion.