eOffice Implementation at Division/ District level in Madhya Pradesh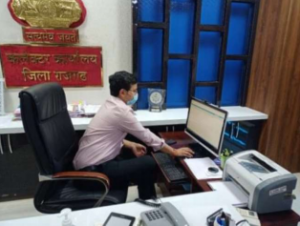 Good Governance is one of the four key pillars of "AtmaNirbhar Madhya Pradesh initiative of Govt. of MP and eOffice MMP implementation has been included as a means to achieve this objective through paperless, transparent and accountable government working at all levels (Department, HoD, Division and District). At present, rollout has been completed for 54 departments of the State Secretariat and 53 HODs. Implementation in remaining HoDs of the state is under progress.
For effective implementation at Division and District Level, "Zila eOffice Karya Pranali Pustika" approved by Revenue and General Administration Department was circulated amongst the concerned for effective, easy and timely
onboarding.
Eventually, implementations at following locations were successfully carried out in January, February & March
2021:-
Divisional Commissioner Office Chambal – 05/01/2021
Divisional Commissioner Office Gwalior 20/01/2021
District Collectorate Gwalior 06/02/2021
District Collectorate Rajgarh- 17/03/2021
Due to the fresh surge in Covid cases, Commissioner Gwalior & Chambal Division, Sh. Ashish Saxena IAS, an enthusiastic and loyal eOffice user, has further instructed 8 Collectors (under his
purview) to go-live with eOffice as soon as possible.
Collector Rajgarh, Sh. Neeraj Singh IAS, is also taking keen interest in project rollout in the entire district and has accordingly instructed all the district level offices to move to electronic files. Orders have been issued that no physical files will be entertained by the Collector after April 01, 2021. To support the Collector and DIO in this noble cause, eOffice Team, led by Sh. Rajesh Agrawal, TD, personally visited Rajgarh district and interacted with officials to gather a better understanding about their working.
Other Districts of MP where eOffice implementation at District level is in pipeline are Morena, Guna, Shivpuri, Bhind, Datia, Sheopur, Katni and Ashoknagar.
Under the able guidance of SIO, NICMP, it is expected that all the districts/Divisions of MP will onboard eOffice by the end of year 2021.