World Bank appreciates GeoReach developed by NIC MP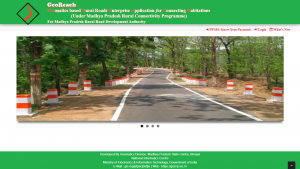 GeoReach(Geomatics based Rural Roads Enterprise Application for Connecting Habitations) https://gismp.nic.in/georeach developed by NIC MP received Letter of Appreciation by World Bank. World Bank congratulated NIC-MP team for coming out with such first-of-its-kind Software in Roads Sector and put on records the commendable efforts for conceptualizing such system, its timely development & continued support.
GeoReach is an enterprise e-Governance solution based on open source cutting edge technologies which provides an end to end solution related to construction of roads. It is a fusion of new & emerging technologies like Cryptography (Digital Signature & SSL), GIS & Remote Sensing, Mobile, Open Web technology, SMTP & SMS.
Since 2017, around Rs. 2760 crores of payment has been disbursed to Contractors directly to their bank accounts. Around 11500 KM of rural roads are being constructed or upgraded under MP Rural Connectivity Project (MPRCP) scheme of Government of MP and being funded by World Bank and Asian Infrastructure Investment Bank (AIIB).