Websites of Revenue Divisions of Madhya Pradesh On S3WaaS Platform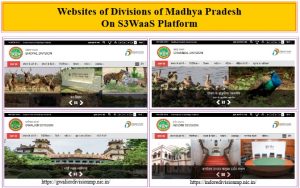 NIC Madhya Pradesh has completed development & migration of websites of all 10 Divisions of Madhya Pradesh on S3WaaS Platform. The development of these websites using the S3WaaS Platform is completed with the best of efforts put in by the DIOs of the concerned NIC District Centres and staff of the O/o Divisional Commissioners.
S3WaaS (Secure, Scalable & Sugamya Website as a Service) is a service by NIC for District/ Divisional Websites with Content Management System (CMS) under under Unified Open Source Technology and it has been deployed on NIC Cloud. These websites has features like, GIGW (Guidelines for Indian Government Websites) Compliance, Accessibility (WCAG 2.0) Compliance, Responsive (Device Independent), Secured (OWASP Compliance), Contemporary User Experience, Generic Information Architecture (IA), Pre-Audited Themes, Hosting Service, SSL Certificate, two level workflow based Content Management, Seamless DR Facility, etc.
Shri Prakash Rao, DDG & SIO, NIC, Madhya Pradesh guided and created a dedicated team (S3WaaS-MP Team) consisting of Shri Pradeep Ahirwar, SSA & Shri Sameer Rajan, SSA under the over all leadership of Shri Sanjay Hardikar, Sr. TD & ASIO (District), to coordinate with Core S3WaaS Team at NIC(HQ).
Alka Mishra, DDG specially approved the migration of Division websites on S3WaaS Platform under available Information Architecture/Framework for District Websites, whereas Shri D.P Mishra, Sr.TD, Shri Lokesh Joshi, Sr.TD and Core S3WaaS team extended support& worked with State Team & DIOs extensively, restlessly & on/off the working days/hours,and migrated all the Division websites of the State on S3WaaS platform smoothly, even during COVID-19 Pandemic situation to complete the task.
Websites of Revenue Divisions of Madhya Pradesh can be viewed from Portal of Madhya Pradesh (i.e., URL https://mpdistricts.nic.in).