Virtual brainstorming session on iRAD system held in MP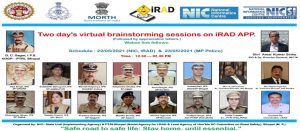 iRAD – Integrated Road Accidental Database System has been successfully implemented in Madhya Pradesh with active participation of Police department. Field officers of 50 districts are doing Live entry of accidents through iRAD mobile App. At present MP is at 2nd position in terms of entries in iRAD. Records of more than 7700 accidents have been contributed so far by MP for analysis purpose.
To have a discussion on the progress, implementation issues, data usage and evolving ideas for further enhancements a two days virtual meeting was organized by PTRI Bhopal in collaboration with NIC. ADG–PTR, SIO MP, DIOs, District Rollout Managers, SPs/District Nodal Officers of iRAD and SHO/Field Officers of all districts participated in the two days brainstorming event.