Training cum Workshop organized on Panchayat Darpan Portal & Mobile App by NIC Madhya Pradesh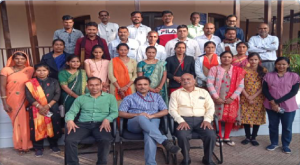 A Training cum Workshop has been organized at Sanjay Gandhi Youth Leadership and Rural Development Training Institute, Pachmarhi on November 07 & 08, 2022 for the Panchayat Darpan Portal https://prd.mp.gov.in/ and Mobile App developed by NIC Madhya Pradesh for the Department of Panchayat and Rural Development, MP. The event was organized for the Staff/ Representatives of Panchayat offices.
The Web Portal & Mobile App are being used by Gram Panchayat Sarpanch, Secretary, Officials & Staff of District and Block Panchayats and other stakeholders of P&RD for carrying-out day-to-day operations & activities and tracking status of ongoing works, payment status of bills, availability of funds, expenditures, bank passbook and other useful information. It also facilitates dissemination of all key information related to receipts of funds, financial transactions, payments, works, vendors and payment receivers etc. in public domain. The Mobile app also facilitates the capturing of geo-tagged photos of works and assets of the Panchayat. Participants have been trained on various aspects of the portal and mobile application during the training program.