NICMP Develops Textbook Distribution and tracking system for Government of Madhya Pradesh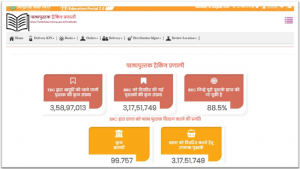 Free Textbook Distribution Scheme of the Government of Madhya Pradesh is a welfare scheme of the government to encourage and ensure primary education for children. Scheme aims to meet the provisions under the Right to Education Act which establishes the right of children (age 6 to 14 years) for a free and compulsory primary education.
Under the scheme, Govt. of Madhya Pradesh procures textbooks from the State Textbook Corporation for distribution to students of class 1 to 8. This exercise of procurement of textbooks to the last mile distribution to the student has been an offline and on paper exercise which involved a significant monetary expenditure to the government.
The objective of the system is to automate the process of procurement of textbooks, subsequent supply chain from the TBC Depots to the Block Offices and the distribution of the textbooks to the students. Leverage the existing systems such as School Directory System, Online School Enrolment System and HRMIS, on the Education Portal Platform of the NIC MPSC, to deliver a coherent and synergic experience to implementation of the scheme.