MyAlerts Mobile App Launched by NIC Ashok Nagar, Madhya Pradesh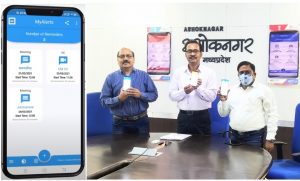 "MyAlerts" Mobile App was designed and developed under District Governance Mobile Challenge (DGMC) by DIO, Ashoknagar and was launched on 18th March 2021 by Shri Abhay Varma, IAS, Collector & District Magistrate, Ashoknagar in the presence of Shri Anuj Rohtagi, Additional Collector, Dy. Collector, District Officers, and other officials.
MyAlerts mobile App usage of local notification with alarm to display a reminder for official activities i.e. VC, meeting, and training & enter notes in the App during activities. Users can also share activity details and notes with others via social media.
This App based on a personal productivity solution is a G2E App. It can be used by district administration or the head of any office/ department or team members to manage the schedules of their activities. It allows the users to register the schedule of important events and activities that include Video conferencing meetings, meetings, training. They will get the reminders, alerts on their app.
Users can share the reminder via social media i.e. WhatsApp, Gmail, SMS, etc. Users can choose the desired color theme just tap on the color theme icon. Users can erase any reminder and the also app has a feature to erases all old reminders automatically on the next day. The App is bilingual and working fine in both Hindi and English. Users can also enter shorts notes during VC and meetings etc. It will help them to plan and manage their schedule prepare for the meeting/activity accordingly. The events, schedules may also be shared with colleagues using WhatsApp or any other social media.