eMARG Newsletter First Release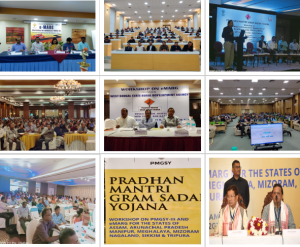 Rural connectivity is a key component of sustainable rural development in India and is a key ingredient in ensuring poverty reduction. Government of India launched a massive rural roads development program Pradhan Manti Gram Sadak Yojna (PMGSY) in year 2000 with the objective of providing all weather road to all eligible unconnected habitations in the core network with 500+ population in plain areas, 250+ population in Special Category States including Hilly/ Tribal areas.
Under PMGSY, more than 6.25 Lakh km rural road has been constructed covered in 30 states/UTs since inception of the scheme and is likely to add about 1 Lakh km. All road works constructed under PMGSY has an in-built provision for 5 year Defect Liability Period (DLP) maintenance contracts to be entered into along with the construction contract, with the same contractor, as per the Standard Bidding Document (SBD). All roads require maintenance as they are subjected to traffic and the forces of weather to prevent deterioration of the road.
National Rural Infrastructure Development Agency (NRIDA), Ministry of Rural Development (MoRD), Govt. of India, nodal for implementation of PMGSY have been continuously stressing importance of maintenance management in a systematic manner in order to ensure the sustainability of these assets to the tune of Lakh Crores and to provide traffic worthy road connectivity.
In order to address issues related to road maintenance and to streamline, standardize the process, national implementation of eMARG (electronic Maintenance of Rural Roads under PMGSY) is planned. MoRD entrusted National Informatics Centre (NIC), Ministry of Electronics & Information Technology (Meity) for its customization and rollout. The primary objective of the eMARG is to provide a single point access to the information and Performance Based maintenance contract (PBMC) made across states throughout country for 5 year Post construction Defect Liability Period (DLP) & Five-year Performance Guarantee (Post-DLP). DLP module is implemented while Post-DLP module is under implementation. First payment rollout was carried in the state of Tamilnadu in 11th October 2019.
eMARG is an Enterprise e-Governance solution to aid and assist the NRIDA,SRRDAs, Civil Contractors, Banks and general public. Its end-to-end solution which provides role-based access via internet. eMARG is re-orientation from discretion-based system to a uniform standardized transparent process oriented system. It is fusion of innovative technologies Open Source, Remote Sensing, Artificial Intelligence, GIS, Cryptography, Mobile, Messaging & Mail.It is among 75 Digital Solutions identified by NIC during Azadi Ka Amrit Mahotsav.